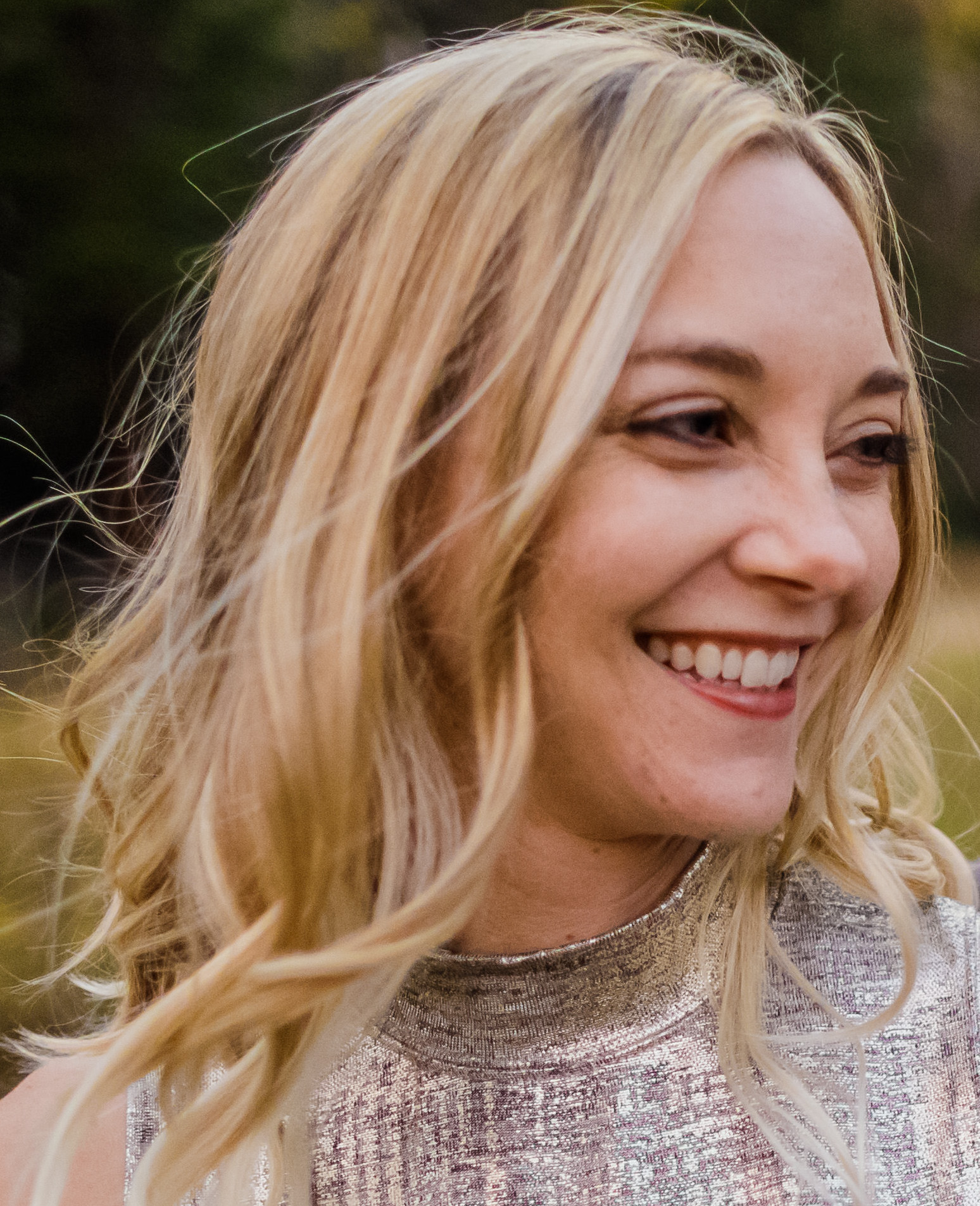 Hi, I'm Ms. Finnigan

I've been teaching The Iliad online for over 10 years. Rather I should say I've been studying The Iliad alongside my high school students. I never grow tired of it. The thing about poetry is: There's always something new to discover!
I have created a variety of products and services to help students read and appreciate this timeless story. But students don't have to go it alone! I am available to all students who purchase this text study via my Office Hours. You can also upgrade with Symposiums or Writing Coaching at any time.
Have a co-op that would like to do this study together? Check out the 2003 Contemplative Learning Scholarship. Scholarships will be awarded on a rolling basis as applications are received starting in September 2023.
I can also teach this book in a more traditional online class if you have a group of 5 students or more, starting at any time. Just contact me!


"Nothing that people's of Europe have since produced is worth the first poem to have appeared among them." -- Simone Weil


Painting: Hektor and Andromache by Antonio Zucchi (1773)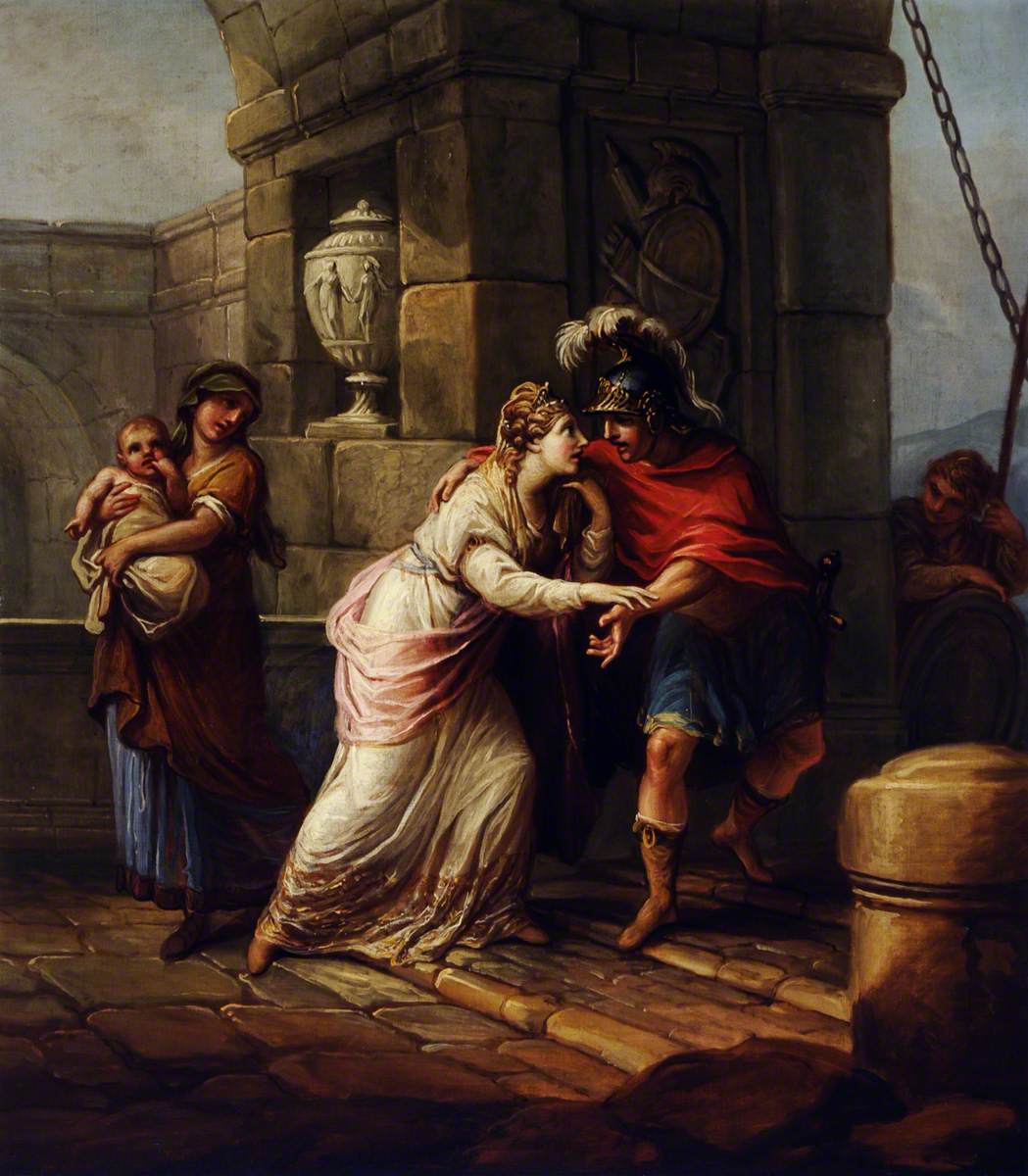 Student Testimonial
"This Study Guide was a lot harder [than others I've used], but I think that is because other Study Guides don't require as much thinking."
– Joseph
15-year-old homeschool student, Boulder, CO, January 2023

The Iliad Text Study

Basic Information
Recommended for students ages 14 and up.
Typically takes 6-8 weeks to complete.
Can be done as an independent study or asynchronous course.
Can be done as a more traditional live class with a group of 5 or more. (Contact Ms. Finnigan to arrange.)
It is perfect for independent learners, adult learners, homeschoolers, and homeschool co-ops.


Components

The "Let's Read The Iliad" Study Guide guides students through a slow but active reading of the text. Students will have to dig in and analyze the language closely and carefully, refining critical thinking skills and developing a new appreciation for poetry in the process. Includes four "tracks" of assignments with minor assignments leading up to major projects. I do not think there is another Study Guide like this one out there. It is truly epic!

The video lectures are informed by ten years of teaching this text. I know what students tend to miss or overlook, what confuses them, and what they find surprising, amusing, and amazing! Consider these videos my "Greatest Hits"!

The online quizzes are short and sweet. They check for basic reading comprehension and help to reinforce some of the main concepts in the Study Guide.

A Certificate of Completion can be hung on the wall for all to see!
Note: The Iliad is not included. You must purchase it separately. Go here to read the first few lines!
Learning Outcomes

Improved active reading skills
Improved note-taking skills
Improved critical thinking skills, like analysis, inference, and reflection
Improved reading comprehension
Identification of 15 literary and poetic devices
Understanding of the Just Defense Tradition of Christianity
Production of artifacts of learning, such as essays, speeches, and artistic works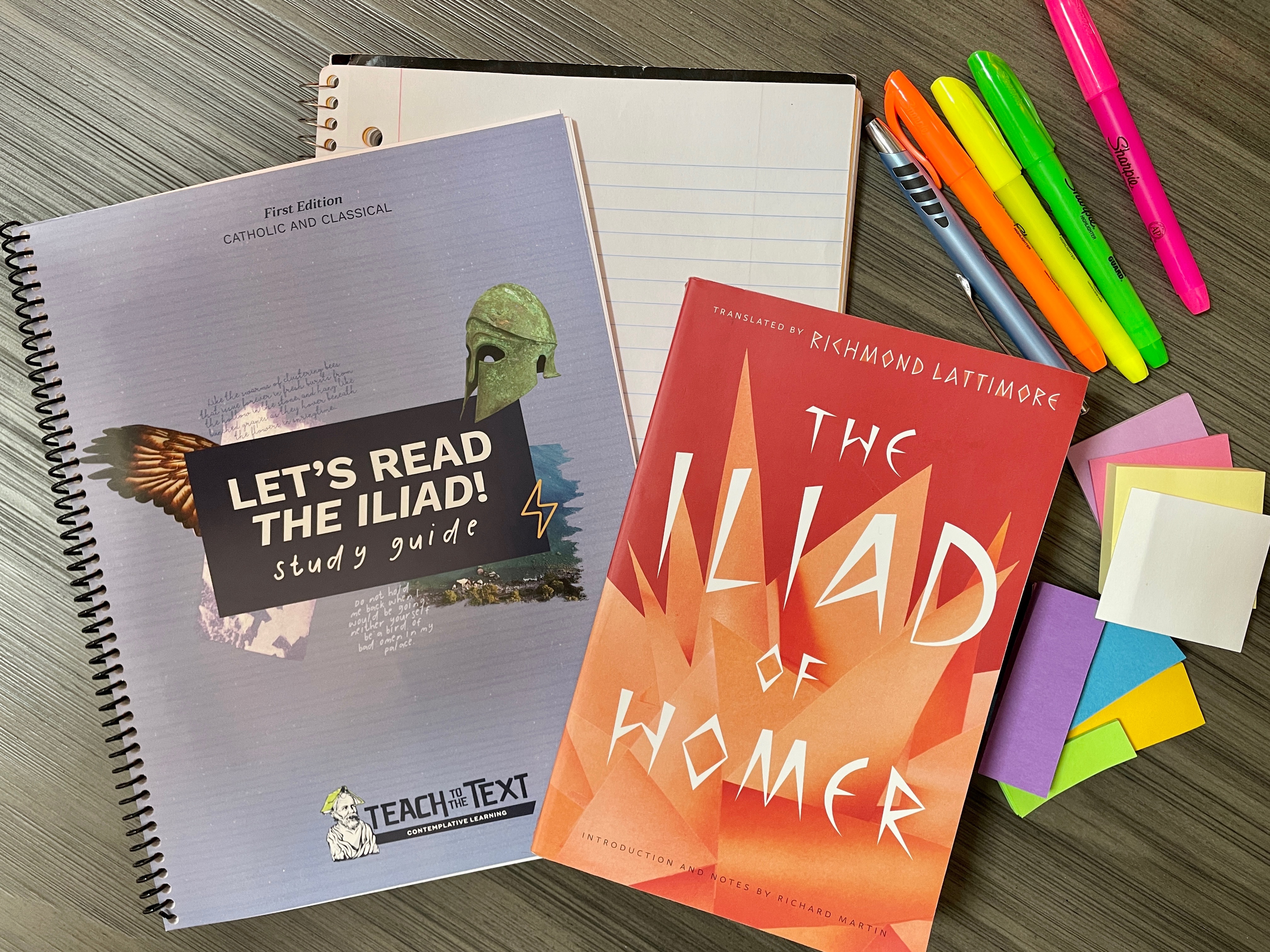 "Let's Read The Iliad!" Study Guide

Don't forget a notebook, and plenty of colored pens, highlighters, and sticky notes. We do things the old-fashioned way.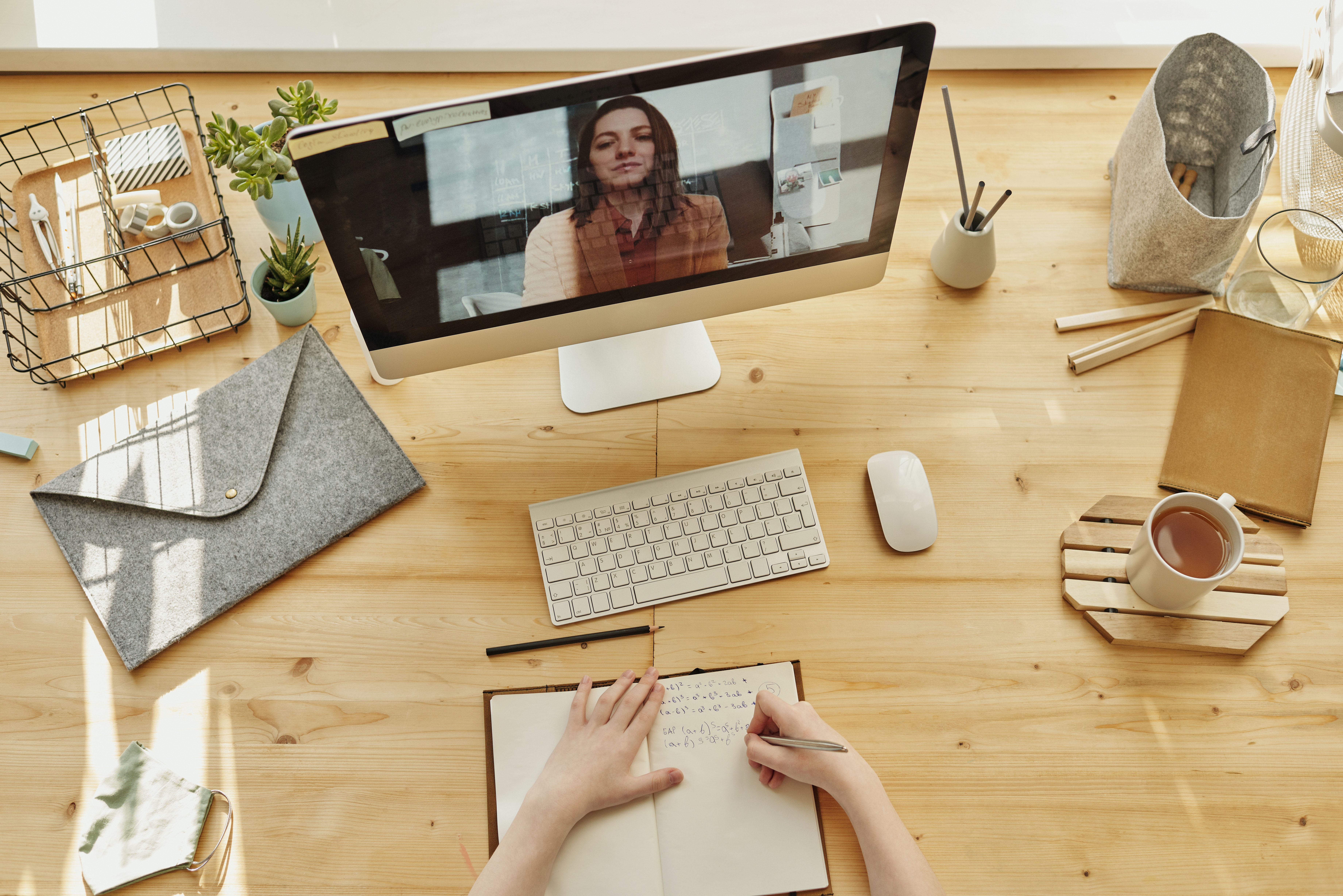 Ms. Finnigan's Lectures & Quizzes

We do put our videos online though, because seriously, who has a DVD player anymore?


A Note About Religion
This Study Guide is "Catholic and Classical". It deals with moral, spiritual, and philosophical questions from a Christian perspective, and it draws on the 2,000-year-old intellectual tradition of the Catholic Church to articulate and present that perspective. However, this is not a theology course. The religious content is very general and should be acceptable to any Christian, whether Catholic, Orthodox, or Protestant.
Not a believer? Perhaps, you will find the religious content interesting from a cultural or historical perspective. After all, the pagans who told these stories for hundreds of years were religious people: They believed in divine beings, they engaged in religious rituals, they worshipped, they prayed. Most of them eventually converted to Christianity. This Study Guide will sometimes ask you to think about differing concepts of the divine, make connections with Sacred Scripture, or engage in introspection and spiritual reflection. If these exercises are not valuable to you, you can easily skip them, because they are clearly labeled, and you will still get a lot out of this study!
Looking for a secular option? Please scroll down to sign up for my email list. I hope to have a "Classical" (only) version of this Text Study available soon!

Supplemental Services
Get started on the text study now with the Study Guide, Videos, and Quizzes. You can purchase additional teacher services at any time!

Other Featured Products
These courses can help your student complete the writing assignments in the Study Guide.

Parent Testimonial
"Ellen Finnigan is an educator in the truest sense of the word. My two high school age children have flourished under her mentorship, both in her literature and writing classes. Her use of the primary texts of The Iliad and Odyssey provides a unique and challenging curriculum for any high school student. Ellen masterfully guides students through this rigorous material with enjoyable and thought-provoking discussion. She engages her students, going out of her way to connect with them personally and creates a camaraderie within the class to facilitate thoughtful discourse. Equally as impressive is Ellen's ability to teach writing. From inviting topics to prompt feedback, Ellen provides professional critique in a naturally supportive manner that coached my teens to communicate their thoughts and ideas with clarity, creativity, and skill. I cannot thank her enough for her influence in my teens' intellectual development and life."

-Bernadette Reidy
Why Read The Iliad

Not convinced? Give me five minutes...(actually six and a half...)

Check your inbox to confirm your subscription.