January 2024 Cohort
Maximum size: 15 students
Minimum size: 7 students
Age:
For students age 16-18, especially those with a serious interest in creative writing. Tuition will be refunded if minimum number of students is not met.


Time:
Wednesdays, 12:00 noon PST, 3:00 p.m. EST
Place:
Ms. Finnigan's online classroom

Dates:
Session 1: Jan. 10 - Feb. 21
Session 2: Mar. 6 - April 17
Session 3: May 1 - 29
Students must successfully complete Session 1 before enrolling in Session 2. Enrollment dependent on teacher approval.


Questions? Email Ms. Finnigan at contact at teachtothetext dot com


Required Text
(Not sold with course. Must be purchased separately.)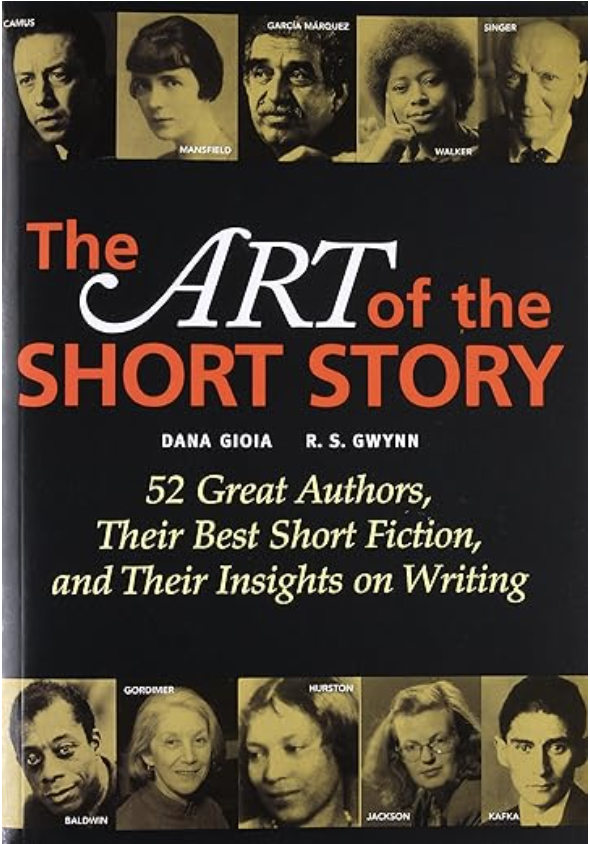 Course Description


This class will teach high school students about the craft of fiction writing through a study of classic short stories. Students will learn a lot about the creative process by working on one project with sustained attention over 4-5 months. The focus is on writing in short story form. (Sorry, no novels!)
Scope of Work
Each week, students will read 1-2 short stories, take a short quiz to assess reading comprehension, attend one live class, and receive a writing assignment to help them create, write, and then revise an original short story.
Curriculum
The full course consists of three sessions that can only be purchased sequentially: Students must successfully complete the work in one session to "graduate" to the next.
Goal of Session 1: Outline
Learn from the masters.
Engage the imagination.
Outline an original story with a focus on plot structure and character.
Goals of Session 2: Draft

Be inspired by the masters.
Develop fortitude by drafting the story from beginning to end.
Write with a focus on narrative mode and style.
Goals of Session 3: Revise
Develop a deeper appreciation for the masters as well as a critical eye.
Practice giving and receiving constructive criticism in an honest, humble, and respectful way.
Revise your story and polish it to perfection!

It is hoped that students will "graduate" from Session 3 with stories they can be very proud of and with a circle of trusted friends who can provide each other with feedback, support, and encouragement in their future writing endeavors!

Note from Ms. Finnigan about Story Content and Religious Concerns
For students ages 16-18.
Worldview
This class will be mostly "secular," though questions of morality, good and evil, and even the soul will undoubtedly come into play, as they do in all great literature. But this is not a literature class. Rather than discussing the themes of the stories, we'll be focusing on the shape of the stories, the choices the writer made in telling them. I believe this focus on craft over meaning makes it easier for students of different backgrounds to learn together. All are welcome!
I do not "ban" discussion of religion from the classroom, especially if it is pertinent (for example, with a writer like Flannery O'Connor, whose religion shapes her moral imagination); but this will not be a major focus of the class and discussions will not "push" a religious message.
I, myself, am a Catholic, and while I want this class to remain open to anyone, I am sympathetic to families who choose to homeschool because they want to educate their children in environments that are respectful of their Christian values. Just as I do not "push" a Christian message in the class, I do not allow other ideologies that are opposed to Christian values to be "pushed". Students should expect that we will steer clear of controversial "culture war" topics, especially with regard to sexuality. (Trust me, we'll have plenty of other things to talk about!)
This class is open to all students within the designated age range and all students shall be respected, though not every idea or discussion will be entertained, if it is not appropriate. I, the teacher, will deem what is and is not appropriate.
What will we read?
I will select stories that I think are appropriate for high schoolers. I will stay away from stories that are written in poor taste, stories with explicitly adult or sexual themes or foul language, as well as "edgy" contemporary stories about social and political issues. I will try to select "classics" that have withstood the test of time and are widely recognized as great writing.
However, the great short stories are written by adults for adults, and are sometimes provocative, tragic, or dark. My students in the past have remarked, "Why are short stories so depressing?" This is another reason for the recommended age range. All of this naturally demands more maturity on the part of the students.
Concerns About Student Writing
Students will not be reading each other's writing until Session 3, at which point the teacher will have a feel for the class and hopefully some trust and rapport has been established.
Students are welcome to write about anything they want and will have the chance to have their work read by me, the teacher (and eventually by their peers) but they will not be entitled to have their work read by anyone. This is to say that if their writing is offensive to the morals or sensibilities of the teacher, I, the teacher, have the every right to decline to read it. (I am not easily scandalized -- but I do have my limits!) If I suspect it would be inappropriate for other students to read, I can decline to let the work be exchanged, or I may ask to send it to the parents first to obtain permission to have their student read it. I see parents as the primary educators of their children; if I am ever in doubt, I loop parents in.
Also students will be given plenty of notice if I feel their work cannot be workshopped in class, due to its content. Students can make an informed choice whether to continue or change direction.
In ten years of teaching Creative Writing to high school students, I have only had 2-3 instances where issues of this kind came up and had to be addressed, but it is good to manage expectations going in.

Thank you for your understanding! If you have any questions or reservations, please feel free to reach out to me for clarification on any of the above. contact at teachtothetext dot com
--Ms. Finnigan

Check your inbox to confirm your subscription